Latest Whole Food Tips for the
"Health Nut" in You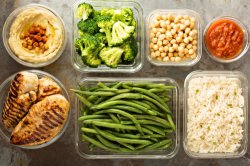 You've hit the midweek slump and decided to skip making dinner and instead reach for your phone for nearby takeout. Or maybe you've just been too rushed in the morning to make a healthy breakfast, so you grab a pastry with your coffee at the café near your office. Do either of these sound like a routine you've succumbed to?
---
Do you find yourself getting stressed during the holiday season? This time of year is filled with parties, shopping, spending, entertaining, and a list of other demands that can easily lead to overwhelm.